Victoria
I joined the practice in September 2019, after graduating from SRUC Edinburgh with a degree in Applied Animal Science (BSc). I grew up on an estate in Sutherland where my father was head shepherd, and this inspired me to focus on livestock Parasitology while in university. My family currently lives on the Isle of Tiree and I still go home for the odd sale and at lambing time.
In my spare time I enjoy reading, gardening, going on walks and spending time with my wee cat – Kovu (not so little now).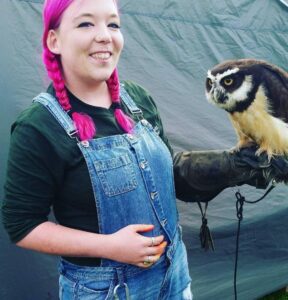 Maia
I joined the team as a receptionist in November 2022. I come with 10 years of experience working with a variety of farm animals and small animals but my main passion is reptiles and exotics! I'm really enjoying working at Eden Vets and learning so much from the team here every day!
When I'm not at work I can be found spending time with friends or looking after my pet snakes, lizards and 3 beautiful cats.

Jen
I joined the practice in March 2022 as a Animal Care Assistant.
When I am not working , you will find me either walking my dogs or riding my horses.  I keep a large brood of animals, Puppy and Boo are my German Shepherds, I have two cobs Cleo and Cash and two Shetland Ponies Star and Captain.
They all keep me very busy – but I wouldn't have it any other way.

Jane
I joined the Eden team in March 2022.
In 2017 I decided to pursue my passion for animals and progress towards a career change by attending SRUC to do a course in NC Animal Care, I then went on to complete a HNC Animal Care.  I would ultimately like to progress towards a diploma in Veterinary Nursing.
In my spare time I like to spend time with friends and family along with my son.
Edie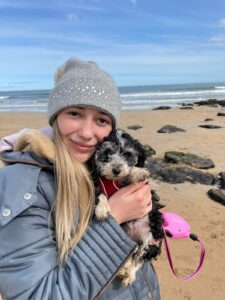 I joined Eden Vets in February 2022 as a Student Nurse. I am in my 3rd year at Napier University.  Being the youngest of the team, I am learning a lot form my team members.
From a young age I have always had dogs and horses around me.  I currently have 4 dogs and 1 horse, they take up all my spare time.  If am not with my dogs or horses you will find me out with friends.

Lauren
I joined the Eden Equine team in October 2022 – this opportunity has been a welcome transition for me as I have a knowledgeable and experienced background with horses.
In my spare time, you will find me competing with my Clydesdale Lilly, spending time with my family and my little boy and generally at my mums livery yard mucking in.

Jill
I joined the Practice in May 2022 after a 34 year career in a completely different sector.
I felt I needed a change to try bring the skills I have to help elsewhere.
I have two Westie's that keep me busy and my hobbies are walking, reading, gardening and being with family and friends.
Jenny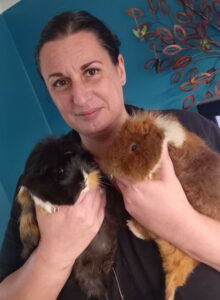 I joined the practice in September 2022 as evening receptionist.  
I have a good admin background and having previously worked as a veterinary receptionist in a small animal practice it has been lovely to come back to a veterinary setting again. I find working at Eden so enjoyable, no two days are the same and I'm loving learning about the large animal side of the business.  
When not at work you'll find me at home caring for my family or at a race track as our son races his motorbike at Scottish and British level. I'm also just slightly obsessed with guinea pigs and have four at the moment. This is Magpie and Pumpkin, possibly the fuzziest guinea pigs I've ever owned. I look forward to welcoming you to our lovely practice!
Opening hours
Monday to Friday : 8.30 – 7.00
Saturday : 9.00 – 1.00
Sunday : Closed
Outside these opening times the
on call vet is available for emergencies on
01334 650888